After the first kiss the sweetest moment of your wedding is when you taste your wedding cake. Our professional staff is at your disposal to help you select the cake and pastry you invite your guest for.
Wedding cake - the symbol of a life together
The rings, the dance and the cake symbolise the couple\'s new life together. The first slice cut of the cake is a highlight of the wedding, so the cake should be beautiful and delicious as well.
The size of the cake depends on the number of guests. It can be a simple one or a level cake. It is best if your selection of its taste fits the preceding menu.
Our master baker and chef are ready to assist and advise you.
A menyasszonyi torta szeletára: 900,- Ft.
A marcipán bevonat költsége: 3000,- Ft / kg.
A díszítés költsége: 1000,-Ft / torta.
Saját torta is hozható!
… or all tastes together in three levels to treat your guests!
Desserts - a selection of sweet and salty pastry and cookies
A home-made selection of of sweet and salty pastry and cookies are available upon request. Quality is guaranteed by our master baker!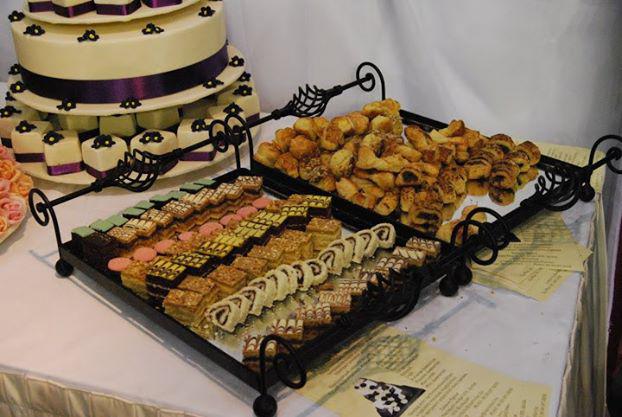 Request an offer for wedding cake and sweets!
Rendezvényszervezőink, Mestercukrászunk és Mesterszakácsunk készséggel állnak rendelkezése!
Kérjen egyedi ajánlatot egyszerűen és gyorsan!